THE215 PodMAX: Live Life On Your Own Terms
Our Guest is Niti Jamdar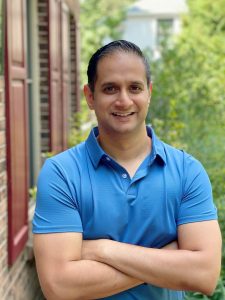 This episode was recorded at an exclusive event called PodMAX where founders had an opportunity to share their stories and knowledge.
Special guest host Rocky Lalvani leads the conversation down a path of insights, solutions, and collaboration.
Join us for our next event at www.podmax.co
Niti Jamdar
Niti Jamdar is Co-Founder and Managing Partner at Open Spaces Capital based in Philadelphia. He brings 15 years of experience in strategic leadership and was until recently an Executive in Product Strategy and Finance for a Fortune 100 company.
Niti, along with his wife Palak, has built a $5M real estate rental portfolio in 3 years, by leveraging the skill-sets of creating systems, processes, and teams that they had acquired in their corporate careers.
And now, they coach busy professionals on how to turn $25k into a multi-million dollar rental portfolio. Niti and Palak have now successfully coached over 100 investors.
Connect Further with Niti Jamdar